Earth Justice
Hopedale is a recognized Green Sanctuary, and we are committed to creating a religious community that has a fundamental, bottom-line commitment to living in harmony with the earth. 
We live this commitment at Hopedale in ways large and small. We have reduced our building's energy expenditure by purchasing a heat pump as an energy-efficient alternative to a traditional furnace. We have also installed LED lighting around our building, and we use reusable table service and cloth napkins at our social functions.
¸,ø¤º°`°º¤ø,¸,ø¤°º¤ø,¸¸,ø¤º°°º¤ø,¸
Hopedale's Social Justice Committee (SJC) sponsors summer services that take a close look at how human activity can affect the health of both the earth and the people who inhabit it. The SJC plays an active role in Oxford's Earthfest celebration each year, and participates in social witness concerning national and worldwide environmental issues.
¸,ø¤º°`°º¤ø,¸,ø¤°º¤ø,¸¸,ø¤º°°º¤ø,¸

The SJC is standing on the side of love for the
rights of indigenous peoples and the environment
. We made a donation of $200 to the
Standing Rock Camp fund.
 We witnessed (thanks mostly to social media) a brutal militarized police response to the water protectors in North Dakota. We don't dismiss them as mere "protesters", for they are attempting, at great personal risk, to protect our most precious resource: water.
¸,ø¤º°`°º¤ø,¸,ø¤°º¤ø,¸¸,ø¤º°°º¤ø,¸
We are concerned about pollutants from oil and gas production, including methane, which is 87 times more powerful than carbon as a contributor to global warming in the atmosphere. Additional concerns include major toxins such as formaldehyde, benzene, acetaldehyde, and ethyl benzene. The threat is in our back yard: one-quarter of all Americans living within a half-mile threat radius of oil and gas production pollutants live in Ohio, and Ohio ranks tenth nationally in its total population living within threat zones.
¸,ø¤º°`°º¤ø,¸,ø¤°º¤ø,¸¸,ø¤º°°º¤ø,¸
The SJC and other Hopedale members take an active role in educational and witness activities that make a difference both regionally and nationally.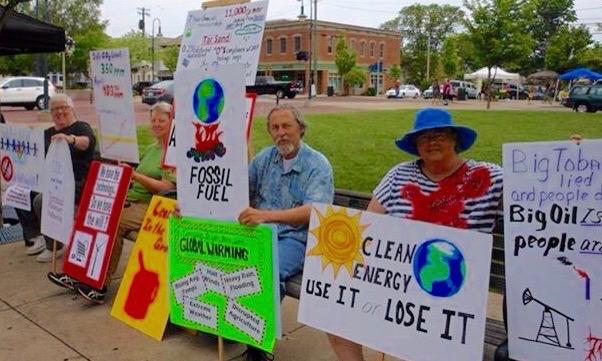 Social Justice Committee, HUUC

Newsblog

 (please feel free to subscribe!)