Welcoming Congregation
The Hopedale UU Community was recognized by the UUA as a Welcoming Congregation in 2007. We are grateful to members Robert Bell and Amy Lamborg for assisting the congregation throughout the process.
Welcoming Congregations who publicly and successfully welcome bisexual, gay, lesbian, transgender, and questioning people have the following qualities:
They include and address the needs of LGBTQ persons at every level of congregational life—in worship, in programs, in social occasions, and in rites of passage—welcoming not only their presence but the gifts and particulars of their lives as well.
They assume the presence of LGBTQ people and celebrate this diversity by having inclusive language and content in their worship.
They fully incorporate the experiences of LGBTQ persons throughout all programs, including religious education.
They include an affirmation and nondiscrimination clause in their by-laws and other official documents affecting all dimensions of congregational life, including membership, hiring practices, and the calling of religious professionals.
They engage in outreach to the LGBTQ community in their advertising and by actively supporting LGBTQ-affirmative groups.
They offer congregational and ministerial support for union and memorial services for LGBTQ persons, and for celebrations of family definitions.
They celebrate the lives of all people and welcomes same-sex couples, recognizing their committed relationships, and they equally affirm displays of caring and affection without regard to sexual orientation.
They seek to nurture ongoing dialogue between bisexual, gay, lesbian, transgender, questioning, and heterosexual persons, and to create deeper trust and sharing.
They encourage the presence of a chapter of Interweave.
They affirm and celebrate LGBTQ issues and history throughout the program year.
They attend to legislative developments and work to promote justice, freedom, and equality in the larger society.
They speak out when the rights of bisexual, gay, lesbian, transgender, and questioning people are at stake.
They celebrate the lives of all people and their ways of expressing their love for each other.

¤ø,¸¸,ø¤º°`°º¤ø,¸,ø¤°º¤ø,¸¸,ø¤º°
Cincinnati Pride Events and Interfaith Pride Service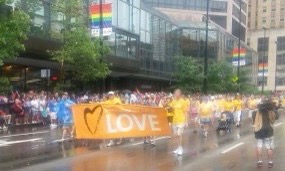 The Social Justice Committee participates in the annual Cincinnati Pride Parade and Festival. A Cincinnati church also hosts an Interfaith Pride Service each year; this special event celebrates the blessings our LGBTQ friends bring to our community. There are many other exciting events that take place during Pride Week. Visit http://www.cincinnatipride.org to see the latest list of events.
°º¤ø,¸¸,ø¤º°`°º¤ø,¸,ø¤°º¤ø,¸¸,ø¤º°
Ten Economic Facts
We encourage you to read the policy memo Ten Economic Facts About Immigration from The Hamilton Project sponsored by The Brookings Institution, a nonprofit public policy organization based in Washington, D.C. – submitted by Liz Woedl°
º¤ø,¸¸,ø¤º°`°º¤ø,¸,ø¤°º¤ø,¸¸,ø¤º° 
Et

hical Eating
Resolution of the Board of Hopedale UU Community, March, 2009: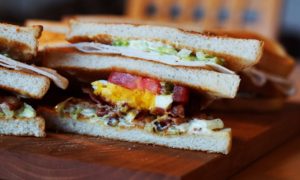 WHEREAS, "Ethical Eating" was selected at General Assembly in 2008 to be the Congregational Study/Action Issue for 2008-2012; and
WHEREAS, the Board of Hopedale Unitarian Universalist Community believes that the Hopedale Community benefits from our association with and enactment of the priorities of the Unitarian Universalist Association; and
WHEREAS, the Hopedale Unitarian Universalist Community is proud of our status as a Green Sanctuary, and strives to enact that status in as many of our programs as possible; and
WHEREAS, the Board perceives that the Hopedale Unitarian Universalist Community has considerable resources that we could devote to enacting the spirit of "Ethical Eating", as defined by the UUA CSAI and by our Community; and
WHEREAS, the Board perceives that such a venture could be an important mechanism for turning our congregation's vision outward, helping to meet significant needs in the Oxford and Hamilton areas, and reinforcing a social justice orientation to our identity in local communities;
BE IT RESOLVED THAT the Board of Hopedale Unitarian Universalist Community encourages our congregation to make enactment of the Congregational Study/Action Issue "Ethical Eating" a significant focus of our activities for at least the period April 2009- June 2010. This would include the appointment of a Task Force to coordinate Hopedale Unitarian Universalist Community efforts. We would encourage "Ethical Eating" to be taken up as a significant focus, perhaps one of several, during Sunday services, by adult and children's Religious Education, by the Green Sanctuary committee, and by our Social Action committee.
º¤ø,¸¸,ø¤º°`°º¤ø,¸,ø¤°º¤ø,¸¸,ø¤º° Important Links: